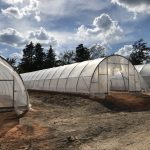 Fairhaven continues the aggressive expansion program to include new growing space for 100,000 new vines! The houses are the New Atlas R-3 with a revolutionary arch design that greatly increase the strength of the design.
All of the new houses received the newest of the poly coverings, the Atlas designed, 5 year coverings that are UV stable and allow up to 90% light transmission.
This fall marks the beginning of production in the new propagation house with the planting of hybrid select rootings for spring 2017 production.